The weather today: tuesday, 06 2022
Weak high pressure conditions.
Sunny weather with possible fog in some valleys in the morning.
Maximum temperatures from 0° to 6°.
The weather tomorrow: wednesday, 07 2022
The mountain weather today (Dolomites)
Weak high pressure conditions.
Very sunny weather, only few cirrus clouds in the afternoon.
The mountain weather tomorrow (Dolomites)
Evolution weather in South Tyrol: Sunny, on Friday unstable
Mostly sunny on Wednesday, local patches of morning fog. Also on Thursday very sunny weather. On Friday cloudy sky with widespread snowfall. Saturday unstable conditions with some showers.
Tomorrow

T. max: 1 / 7 °C
T. min: -10 / -2 °C
thursday

T. max: 0 / 6 °C
T. min: -12 / -2 °C
friday

T. max: 0 / 3 °C
T. min: -5 / 1 °C
saturday

T. max: 0 / 4 °C
T. min: -2 / 1 °C
sunnday
T. max: 0 / 4 °C
T. min: -2 / 1 °C
South Tyrol weather today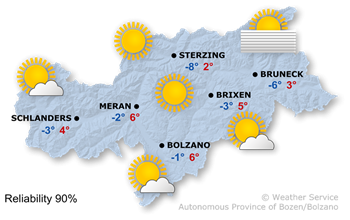 South Tyrol weather tomorrow
Update at 11:00 am
Source: © Weather Service Province Bolzano - South Tyrol